Calendar of Events
October
October 6: First Friday
---
October 7: First Saturday
Feast of Our Lady of the Rosary
Altar Server Training
Little Flowers
---
October 8: Solemn High Mass with Fr. Debow
---
October 13: Rosary Procession in Honor of Our Lady of Fatima
October 13 is the 100th anniversary of the apparition of Our Lady of Fatima. Please join us for the procession after the 6:30 p.m. Mass. Exposition of the Most Blessed Sacrament will begin at 5:30 p.m.
---
October 18: 29th Anniversary of the FSSP
---
October 21: First Anniversary of the Ordination to the Priesthood for Fr. Insco
---
October 22: Mini Pilgrimage
Mark your calendars for a mini pilgrimage. Saturday, October 21st, we will head down to the St. Francis Xavior Mission after our usual 9 a.m. Mass and have Mass at the mission at Noon, so you can simply join us there for Mass if you like. We will tour the site and have a speaker explain the historical significance of this church. Please bring a sack lunch and a side or dessert to share.
---
October 29: Christ the King
Please join us for a procession honoring Christ the King after the 10:30 Mass. We will have an All Saints party and potluck following the procession.
---
November
November 1:
All Saints Day
There will be two Masses this day. Low Mass will be offered at 8:00 a.m. and a Solemn High Mass will be offered at 7:00 p.m.
---
November 2: All Souls Day
---
November 3: First Friday
---
November 4: First Saturday
Altar Server Training
Little Flowers
---
November 5: Annual Veterans Day Dinner
---
November 23: Thanksgiving
---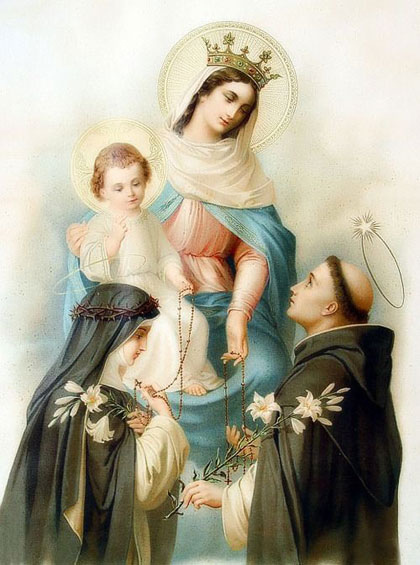 October is dedicated to the Most Holy Rosary
"Grant me, O Lord my God, a mind to know you, a heart to seek you, wisdom to find you, conduct pleasing to you, faithful perseverance in waiting for you, and a hope of finally embracing you."
~ Saint Thomas Aquinas ~