Parish Life
Altar Server Training
All boys who would like to learn to serve at the altar and have received their First Communion are invited to participate in server training on the First Saturday of each month after Mass and Exposition. No experience necessary. Please contact for additional information.
Catechism Classes
As announced...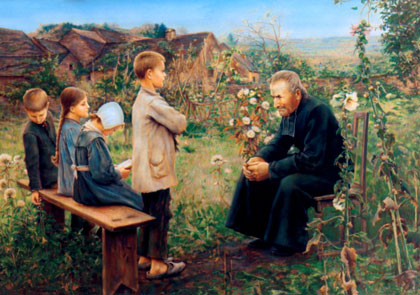 "Catechism Lesson" by Jules Alexis Meunier
Choir
Sacred music has a very important place in the worship of the Church. Having beautiful sacred music can only be achieved through much dedication on the part of the choir. New members are always welcome. Men are particularly needed at this time. If interested or if you would like some more information, please contact (please be sure to write "Choir" in the subject line). Rehearsals are on Friday evenings from 4:30-6:15 (prior to the 6:30 PM Mass) and on Sunday mornings from 9:15-10:15 in St. Joseph's Hall (a.k.a. the basement).
Coffee Hour
If you are attending the 10:30 AM Mass, please bring doughnuts, cakes, cookies, vegetables, fruit, sandwiches, other finger food goodies, or drinks and join us for the coffee hour after Mass.
Little Flowers
The Little Flowers Girls' Club is for girls ages 5-12. We meet on First Saturday after Mass and Exposition of the Most Blessed Sacrament. Please contact for additional information.
Little Sodality of Mary
A group for young women (13-17 years). We meet the 1st Monday and 3rd Saturday of the month to participate in charity work, formation, and fun outings. New members are welcome! Please contact Bernadette Celestin if you are interested in having your daughter(s) participate.
St. Joseph Men's Group
The Men's Group meets on the First Saturday of each month after the 9:00 AM Mass. All men of the parish are welcome and encouraged to attend.
St. Joseph's Pro-Life Group
Please join a group of St. Joseph parishioners who pray each Thursday morning between 9:00 and 11:00 AM outside Planned Parenthood in Tacoma. You can join us for Mass at 8:00 AM and then head over to 1515 Martin Luther King Jr. Way. If you would like more information, feel free to contact the Barlows. God bless you!
"Happy the priest who loves his pastor's lot and lives wholly in it, fulfilling day by day the slight and despised acts of charity to all who need his care, and laying up in heaven unconsciously the gold dust of a humble life, looking only for his eternal reward."
~ Cardinal Henry Edward Manning ~