Every day at noon, across the Archdiocese of Seattle, churches will ring their bells calling the faithful to prayer.  In your homes, or wherever you may be, please pray the Angelus.
V. Ángelus Dómini nuntiávit Maríae.
R. Et concépit de Spíritu Sáncto.
Áve María, grátia pléna, Dóminus técum; benedícta tu in muliéribus, et benedíctus frúctus véntris túi, Jésus.
Sáncta María, Máter Déi, óra pro nóbis peccatóribus, nunc et in hóra mórtis nóstræ. Ámen.
V. Ecce ancílla Dómini.
R. Fiat mihi secúndum vérbum tuum.
Áve María ...
V. Et Vérbum cáro fáctum est.
R. Et habitávit in nóbis.
Áve María ...
V. Ora pro nóbis Sáncta Dei Génitrix.
R. Ut dígni efficiáur promissiónibus Christi.
Oremus: Grátiam túam quaésumus, Dómine, méntibus nóstris infúnde: ut qui, Ángelo nuntiánte, Chrísti Fílii tui Incarnatiónem cognóvimus; per Passiónem Ejus et Crucem, ad resurrectiónis glóriam perducámur. Per eundem Chrís¬tum Dóminum nóstrum. Ámen.
Hail Mary, full of grace, the Lord is with thee; blessed art thou among women and blessed is the fruit of thy womb, Jesus.
Holy Mary, Mother of God, pray for us sinners, now and at the hour of our death. Amen.
V. Behold the handmaid of the Lord.
R. Be it done unto me according to Thy word.
Hail Mary ...
V. And the Word was made Flesh.
R. And dwelt among us.
Hail Mary ...
Pray for us, O Holy Mother of God, that we may be made worthy of the promises of Christ.
Let us pray: Pour forth, we beseech Thee, O Lord, Thy grace into our hearts; that we, to whom the incarnation of Christ, Thy Son, was made known by the message of an angel, may by His Passion and Cross be brought to the glory of His Resurrection, through the same Christ Our Lord. Amen.
Consecration to the Immaculate Heart of Mary
Below is a PDF of the consecration to the Immaculate Heart of Mary that Fr. Brodsky, FSSP, mentioned in his sermon on Laetare Sunday, March 22.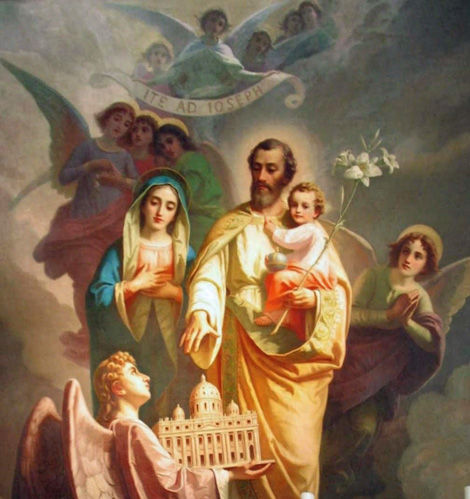 The Litany of Saint Joseph
Lord, have mercy on us. Lord, have mercy on us.
Christ, have mercy on us. Christ, have mercy on us.
Lord, have mercy on us. Lord, have mercy on us.
Christ, hear us. Christ, hear us.
Christ, graciously hear us. Christ, graciously hear us.
God the Father of Heaven, Have mercy on us.
God the Son, Redeemer of the world, Have mercy on us.
God the Holy Ghost, Have mercy on us.
Holy Trinity, One God, Have mercy on us.
Holy Mary, pray for us.
Saint Joseph, pray for us.
Illustrious son of David, etc.
Light of the patriarchs,
Spouse of the Mother of God,
Chaste guardian of the Virgin,
Foster-father of the Son of God,
Watchful defender of Christ,
Head of the Holy Family,
Joseph most just,
Joseph most chaste,
Joseph most prudent,
Joseph most valiant,
Joseph most obedient,
Joseph most faithful,
Mirror of patience,
Lover of poverty,
Model of workmen,
Glory of domestic life,
Guardian of virgins,
Pillar of families,
Solace of the afflicted,
Hope of the sick,
Patron of the dying,
Terror of demons,
Protector of Holy Church,
Lamb of God, Who takest away the sins of the world, Spare us, O Lord.
Lamb of God, Who takest away the sins of the world, Graciously hear us, O Lord.
Lamb of God, Who takest away the sins of the world, Have mercy on us.
V. He made him the lord of His household,
R. And prince over all His possessions.
Let Us Pray.
O God, Who in Thine ineffable providence didst vouchsafe to choose Blessed Joseph to be the spouse of Thy most Holy Mother, grant that as we venerate him as our protector on earth, we may deserve to have him as our intercessor in Heaven, Thou Who livest and reignest forever and ever.
R. Amen.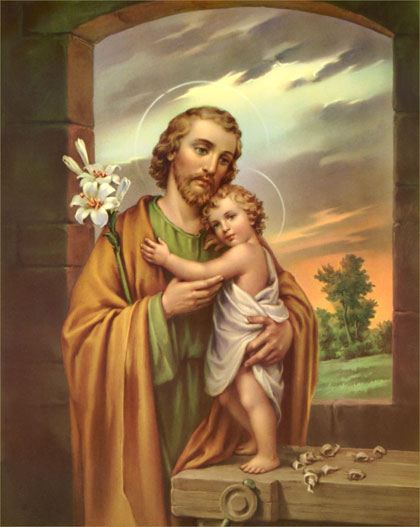 Prayer to St. Joseph to be Added to the Rosary in October
Ad te beáte Joseph
To thee, O blessed Joseph, do we fly in our tribulation, and having implored the help of thy thrice-holy Spouse, we now also confidently seek thy protection. By that charity which united thee to the immaculate Virgin Mother of God, and by that fatherly love for the Child Jesus, we humbly beg thee to look graciously upon the inheritance which Jesus Christ hath purchased with His Blood, and in our need to help us by thy powerful intercession. Do thou, O prudent guardian of the Holy Family, watch over the chosen people of Jesus Christ. Keep us, O most loving father, from all blight of error and corruption. O most mighty protector from thy place in Heaven, graciously help us in this our conflict with the powers of darkness. And as of old, thou didst rescue the Child Jesus from the supreme peril of His life, so now defend God's Holy Church from the snares of the enemy and from all adversity. Extend to each one of us thy continual protection, that led on by thine example and strengthened by thine aid, we may lead a holy life, and die in holiness, and obtain everlasting happiness in Heaven. Amen.
"Pray with great confidence, with confidence based upon the goodness and infinite generosity of God and upon the promises of Jesus Christ. God is a spring of living water which flows unceasingly into the hearts of those who pray."
~ -Saint Louis Marie de Montfort ~
Copyright © 2015-2020 Saint Joseph Catholic Church, Latin Mass Parish, 602 S 34th St., Tacoma, WA 98418. All Rights Reserved.