The Spirituality of the Cross
Fr. Joseph Tuscan, OFM Cap.
St. Joseph Catholic Church is an apostolate of the Priestly Fraternity of St. Peter.
St. Joseph, Patron Saint of the Universal Church, ora pro nobis!
Mass Times
---
Sunday
8:00 a.m. Low Mass
10:30 a.m. Sung Mass
Monday - Thursday
Friday
Saturday
Confession
---
Confessions are heard 30 minutes prior to each Mass and as needed after Mass.
If you need to go to confession after Mass, please wait in the last pew or along the wall.
Quick Links
---
Devotions
---
The Angelus or Regina Caeli is prayed after Mass each Sunday
The Leonine prayers are prayed after Low Masses
Exposition with Benediction follows the evening Mass every Friday
The Dolors Rosary will be prayed on Friday during Exposition
First Saturday Expostion with the Litany of Loreto follows the 9:00 a.m. Mass
Litany to St. Joseph is prayed after the Wednesday morning Mass for the needs of the parish
Rosary prior to every Mass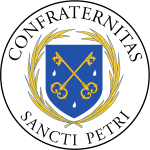 Feast of the Chair of St. Peter, the Apostle
In 2007, the Confraternity of St. Peter was founded on the Feast of the Chair of St. Peter, the Apostle. This Friday, February 22, is the Feast of the Chair of St. Peter. A plenary indulgence is granted under the usual conditions to the members of the Confraternity of St. Peter.
The usual conditions are sacramental confession, Eucharistic communion, and praying for the intentions of the Holy Father.
For information on how to become a member of the Confraternity, please visit
https://www.fssp.org/en/help-us/confraternity-of-saint-peter/
You are invited to join us for a Parish Mission, given by Fr. Joseph Tuscan, OFM Cap., on "The Spirituality of the Cross." Fr. Tuscan will preach the sermon at both Masses on Sunday, February 24. The mission will be held Monday, February 25, through Wednesday, February 27. Each evening will start with 6:30 p.m. Mass; the talks will begin at 7:00 p.m.
Fr. Joseph was born in Columbus, OH, in 1967 and was raised in Canton, OH.  He entered Borromeo College Seminary in 1986 where he earned his Bachelor's degree in Behavioral Sciences in 1989. In 1990, he professed his first vows as a Capuchin Franciscan friar. Making his Perpetual vows in 1993, he went on to earn his Master's degree in Theology at the Washington Theological Union in 1995 and was ordained to the priesthood in 1997.
Fr. Joseph's first assignment after ordination was on the Pacific island of Papua New Guinea where he served for four years with the Capuchin friars of the Custody there.  Returning to the US in 2001, he has served in various capacities as Parochial Vicar, Military and Hospital Chaplain and as Pastor.
Most recently, Fr. Joseph worked with the friars in the Custody of Puerto Rico and currently serves as a full-time Minister of the Word and Evangelization for the Capuchin Province, offering retreats and reflection days for parishes, Religious and Priests.
For additional information, please visit Capuchin Franciscan Friars.
RCIA is a specific catechetical program. The priests at St. Joseph offer individual convert instruction, instead of RCIA. In order to learn more about the Catholic Faith, please see the books below. For more information, please contact the parish office, 253-472-2489.
Choir Members Wanted
Sacred music has a very important place in the worship of the Church. Having beautiful sacred music can only be achieved through much dedication on the part of the choir. New members are always welcome. If interested or if you would like more information, please contact Matthew Ley (please be sure to write "Choir" in the subject line). Rehearsals are currently on Sunday mornings from 9:15-10:15 in St. Joseph's Hall (a.k.a. the basement).
Coffee Hour
If you are attending the 10:30 a.m. Mass, please bring doughnuts, cakes, cookies, vegetables, fruit, sandwiches, other finger food goodies, or drinks and join us for the coffee hour after Mass.
What are Your Skills and Talents?
We are compiling a list of different skills and talents of our parish family to use as a source for all the different needs and projects in the parish. Are you good at sewing, or maybe plumbing, gardening or carpentry, or computer work? The list is endless. We all have gifts to share. Please click the button below and fill out the questionnaire.
Fr. Thomas Longua, FSSP
Pastor
Fraternitas Sacerdotalis Sancti Petri
Fr. Edward Brodsky, FSSP
Parochial Vicar
Please remember to keep Fr. Longua, FSSP, Fr. Brodsky, FSSP, and Fr. Stinson, FSSP (our district superior) in your daily prayers.
O Jesus, Eternal Priest, keep Thy priests within the shelter of Thy Sacred Heart, where none may touch them. Keep unstained their anointed hands, which daily touch Thy Sacred Body. Keep unsullied their lips, daily purpled with Thy Precious Blood. Keep pure and unworldly their hearts, sealed with the sublime mark of the priesthood. Let Thy Holy Love surround and shield them from the world's contagion. Bless their labors with abundant fruit, and may the souls to whom they minister be their joy and consolation here and their everlasting crown hereafter.
O Mary, Queen of the Clergy, pray for us; obtain for us many holy priests.
Amen.
Text STJOSEPHSCC to 84576
There is no charge for this service, but your carrier message and data rates may apply. Reply STOP to 84576 to stop text notifications at any time.
If your membership isn't approved within one week, please introduce yourself after Mass.
Copyright © 2015-2019 Saint Joseph Catholic Church, Latin Mass Parish, 602 S 34th St., Tacoma, WA 98418. All Rights Reserved.