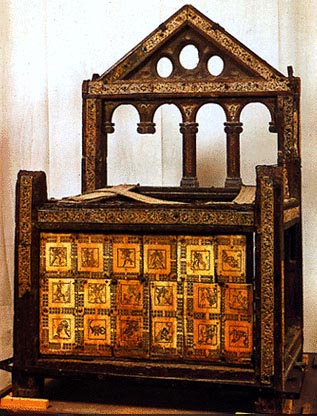 On the Feast of the Chair of St. Peter, February 22, a plenary indulgence is granted under the usual conditions to the members of the Confraternity of St. Peter. The usual conditions are sacramental Confession, Eucharistic Communion, and prayers for the intentions of the Holy Father. For information on how to become a member of the Confraternity, please visit https://www.fssp.org/en/helpus/confraternity-of-saint-peter
To honor the dignity of the "Prince" (Introit) to whom Jesus committed the power of the keys (Collect), the Church instituted the feast of the "Chair of St. Peter1," which is found in the Roman calendar at this date since the year 336.
As it often falls in Lent, certain churches celebrated it at an earlier date, in January. Hence the two feasts of the Chair of St. Peter, which the Church distinguished by connecting the more ancient one2 on February 22, with the Chair at Antioch and that on January 18 with the Chair of Rome.
1.The cathedra (chair) is the throne established where the bishop resides, hence the name cathedral, given to the church where his seat is placed. Metaphorically, it represents the episcopal authority itself. "The Chair of St. Peter" means therefore, a memory of St. Peter's episcopate, and his primacy as head of the Church.
2. Rome, until the sixteenth century only celebrated this feast.
Copyright © 2015-2023 Saint Joseph Catholic Church, Latin Mass Parish, 602 S 34th St., Tacoma, WA 98418. All Rights Reserved.